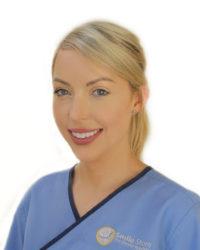 Jennifer O'Riordan
I commenced training as a dental hygienist at University College Cork in September 2011, having worked as a dental nurse for five years prior to this. During my studies as a dental hygienist I completed over 650 hours of clinical hours treating patients with mild to severe gum disease. I also treated patients with various oral conditions. I graduated with an Honours Diploma in Dental Hygiene in June 2013.
At Smile Store, I provide routine scale and polishes and our ever popular Prophyjet (sandblasting) cleaning. More complex and deeper scaling is provided under local anesthetic when required to treat gum disease. I am passionate about teaching patients good oral hygiene habits, as recent studies have identified links between gum disease and general health such as diabetes and cardiovascular disease, so it has never been more important to look after your teeth and gums.
Continuing education is very important to me and I attend lectures and conferences when possible. I am registered with the Irish Dental Council and a member of the Irish Dental Hygienists Association.
Reviews

I would 100% recommend everything about the Smile Store, from the reception to the nurses, to the dentists and surgeons. I would never use anyone else. Thanks Smile Store (Awesome)
Jim O'Leary Reviews Smile Store
January 13, 2020
Very professional, I always knew what to expect as a detailed plan was provided for me. Everyone I met was always very friendly. I'm very pleased with my treatment, I had a lot of work done, 4 wisdom teeth extracted (painless), cleanings and 2 and a half years of orthodontic treatment. I'm delighted with my results.
Niamh Reviews Smile Store
October 1, 2019
Excellent – very professional. Hygiene to a very good standard. Pleasant staff. Efficient.
Patricia Winters Reviews Smile Store
July 8, 2019
Excellent treatment. Facilitated medical condition. Great "chair-side" manner; very relaxing. Jennifer the dental hygienist is superb. Office staff are always pleasant and helpful. Great at providing receipts and tax forms.
Eileen O'Connor Reviews Smile Store
May 17, 2019
Treatment at Smile Store is delivered in a very professional manner, and in a way that inspires the utmost confidence in the competency of the staff. There is a very high level of coordination among staff, resulting in all aspects, especially the important details of the treatment, being delivered very efficiently and competently.
Patrick O'Connell Reviews Smile Store
February 21, 2019
Excellent cleaning procedure – very thorough. As a result, cavity was detected! My experiences of root canal procedure and crown procedure were pain free! Saved money too in that Smile Store charge less for crowns and root canals compared to other dentists. I enjoyed coming to my friendly, sincere dentist.
Emily Reviews Treatments at Smile Store – The Dental Specialists
December 17, 2018
My teeth were destroyed before I came here, and now thanks to all of ye here at Smile Store I can smile again. I'm a very nervous patient and all the dentists made me feel so comfortable and relaxed. Thank you to everyone at Smile Store Dentist.
Colette Granville Reviews Smile Store
December 10, 2018
Professional, fast, clean, relaxing dental experience. Best teeth clean of my life!
Niamh Masterson Reviews Smile Store
November 23, 2018
Very pleased with the care I received. My crown and teeth cleaning were done very well. I will return.
Christine Murphy Reviews Smile Store
November 15, 2018
Wendy Ward
September 13, 2016
I had a scale and polish carried out by Jennifer last evening. Amazing!! I had been dreading it but I can honestly say it was the most painless experience I have ever had at a dentist and I\'m so thrilled with the result. Plus the waiting room is comfortable with loads to read. The receptionist and Jennifer were really friendly and so efficient. I will definitely be back…actually booked next appointment already. Highly recommend
Sandra
August 30, 2016
I have found on each of my visits to smile store that the staff are very friendly. I am very impressed with the fact that there is no hanging around waiting to be called for your appointment. they are very efficent with times.I was very impressed with the scale & polish I received. I felt my teeth got a really good clean and the dental hygenist really took time to ensure this.
Norma Murphy
March 2, 2016