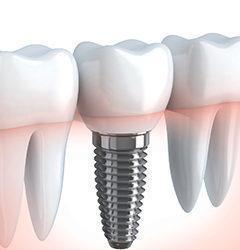 Dental Implants
Dental Implants are the best way to replace missing or damaged teeth. A dental implant is a replacement for your own tooth root, made from titanium and fitted precisely into your jawbone. It is inserted under local anaesthetic by one of our Oral Surgeon specialists, where it fuses over time with your own bone in a process known as osseointegration. This process takes between three to six months but will vary from patient to patient.
Once the dental implant – the replacement 'root' – has fused to the jaw, you may add a crown, a dental bridge, or full dentures atop a single dental implant or multiple dental implants. The secure implant will allow any prosthetic teeth to look, feel and function like natural teeth.
Why get my dental implants fitted at Smile Store?
Smile Store – The Dental Specialists are experts in Dental Implants
Our Oral Specialist Surgeon has a Master's Degree in Implantology
We offer the best prices in Ireland
We will help change your life
We offer a lifetime warranty on all our dental implants
Who can benefit from Dental Implants?
People who are missing teeth
People who wear full or partial dentures
People who wear bridges
Why are Missing Teeth a Problem?
Tooth loss leads to jawbone deterioration
Tooth loss, even a single tooth, leads to damage of neighbouring teeth
Facial features become 'sunken' making you look older
Conventional Dentures and Bridges don't solve the problem of bone loss and will get loose as bone recedes further
Overall dental health deteriorates
How Do Dental Implants Help?
Dental Implants are anchored into the jawbone and fuse into it (osseointegration) providing perfect stability
They don't have to rely on surrounding teeth for support
Implants allow whatever is fitted to them – crowns, bridges or dentures (prosthodontics)-to perform naturally and allow a normal bite pattern
Dental implants avoid bone loss problems caused by full and partial dentures.
Dental implants preserve as many of your natural teeth as possible without the need to file them down to support a bridge
There is no slipping, slurring or difficulty chewing once dental implants have been used to anchor your prosthodontics
Eat what you want, when you want, enjoy great oral health
Main benefits of the different dental implants used by Smile Store
Alpha Bio: comes with a lifetime warranty and an unbeatable price
Ankylos: works very well with extensive bone augmentations and reduces risk of inflammation
Straumann: Swiss-made dental implants allow for shorter healing times
Dental implant to replace a single tooth missing
One of the benefits of a dental implant over a bridge is that the neighbouring teeth are not affected. A single implant is inserted in about 15 minutes and the surgery absolutely is pain-free.
Dental implants to replace multiple teeth missing
Dental implants are replacing missing teeth roots and can also bridge a longer gap.
Dental Implants to replace all teeth missing
Dental implants are an easy way to anchor and fix loose and shifting dentures and to stop bone recession
Dental Implants Testimonials