Periodontal gum disease is a serious condition that affects the tissues around the teeth. It is caused by microorganisms which grow on and around the tooth surface, combined with an overly aggressive autoimmune response.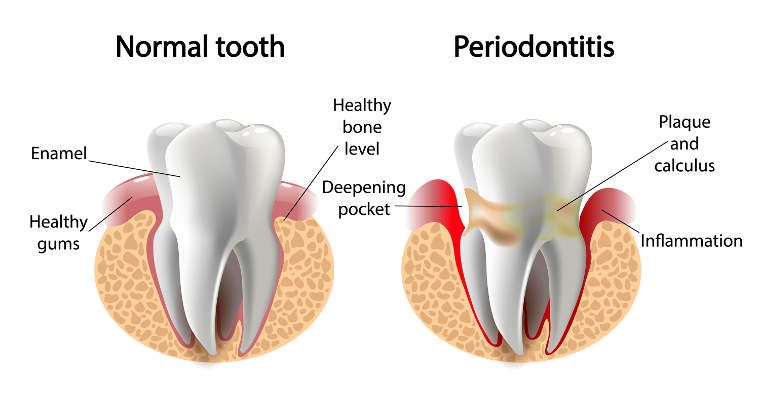 The ligament fibres attaching the gum to the teeth begin to break away, and the alveolar bone around the tooth starts to erode.
If left untreated, periodontal gum disease will lead to loosening, and ultimately loss, of the teeth.
It is irreversible, although with specialist treatment the disease can be slowed down and managed quite effectively.
The severity of periodontal disease is measured by the amount of periodontal ligament fibres that have been lost, called 'attachment loss'. This must be assessed, treated and monitored by a Periodontist.
Signs and Symptoms of Periodontal gum disease
Periodontal disease is often called 'the Silent Disease' as it can progress significantly before people notice symptoms and seek treatment.
Symptoms may include:
Redness and tenderness of the gums, while brushing or biting into food

Reoccurring gum swelling

Bad breath (halitosis) and a metallic taste in the mouth

Gum recession, making the teeth look 'long'

Deep pockets around the teeth where gum ligaments are already destroyed

Loose teeth
Treatment for Periodontal Gum Disease
Periodontal treatment is detailed and involves several appointments, but here at Smile Store we are lucky enough to have our own extensively trained and very experienced Periodontist.
She has designed a periodontal treatment package to help our patients with an effective and closely monitored course of treatment.
These treatments include periodontal assessment; and periodontal probing to establish the level of disease present in each patient.
Hygiene sessions are then scheduled as appropriate, and a full-mouth debridement, or disinfection, is scheduled.
This full-mouth debridement appointment can take up to two hours and is performed under local anaesthetic, to minimise discomfort to the patient. The roots of the teeth are scaled using specialised instruments.
Further hygiene sessions; re-evaluation and re-probing are also scheduled each individual plan as deemed necessary by the Periodontist.
Once the periodontal gum disease has been arrested, it can then be maintained with ongoing visits, and the Periodontist will release patients for implant treatment once she feels their gums have stabilised.