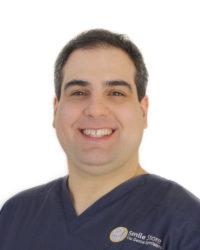 Dr. Gábor Turi
A good orthodontist can change your life, so Smile Store are delighted to welcome Dr. Gabor Turi on board as a recent addition to our busy team.
Having qualified at Semmelweis University in Budapest in 2006, Dr. Turi pursued his interest in Orthodontics. He embarked on a three year full – time orthodontic training program at the Department of Orofacial Orthopaedics and Orthodontics at Heim Pál's Children Hospital at Budapest.
This well – known hospital accept patients from all over the country, and Dr. Turi was exposed to some fascinating cases while gaining invaluable hands-on experience. His training culminated in the equivalent of a Master of Science degree in Orthodontics, and since then Dr. Turi has worked as a consultant orthodontist.
He worked in that hospital till 2013 spring, than asked to work for Semmelweis University in Community Dentistry, Department of Orthodontics. He was Deputy Head of the unit, and continued to study with graduate and post-graduate courses and specialist training programs.
"You could say dentistry is in my blood – my mother was an Orthodontic Specialist for over 20 years, so I had an added advantage of a phenomenally knowledgeable resource in her."
Before joining the dynamic team at Smile Store – Your Local Dental Specialists, he worked extensively in the fitting of metal and clear braces; removable appliances customized for children to ensure the best results for every patient.
Skilled orthodontists can spot potential trouble with irregularities or misalignment of the teeth or jaw in patients of a young age, and Dr. Turi specializes in all aspects of Orthodontics.
From fixed and lingual braces to the increasingly popular removable appliances for children, he stays entirely up to date on the very latest in techniques and appliances, attending courses and congresses on a regular basis.
Qualifications
2009,Specialist in Orthodontics, Semmelweis University, Faculty of Dentistry Budapest
2006 Doctor of Dental Medicine (DDM), Semmelweis University, Faculty of Dentistry Budapest
Here are just a few of the courses I've attended recently:
November 2015: Dr. Lisa Alvetro (USA), Dr. José Chaqués Asensi (Spain), CL II – Forsus appliance, Complex Cases (Budapest-Hungary)
October 2015: Dentaurum factory visit and course (Pforzheim, Germany)
June 2015: Savaria Dent Jubilee Days, Prof. Dr. Asbjorn Hasund, Prof. Dr. Jorge Breuer, Dr. Julia Garcia Baeza, Dr. Peter Gassner, Dr. Daniel Rollet, Dr. Raffaele Spena (Bükfürdő- Hungary)
March 2015: Domingo Martín – (Spain), Actualities in modern orthodontics (Budapest-Hungary)
November 2014: Raffale Spena – (Italy), The CCO system (Budapest-Hungary)
September 2014: Daniel Rollet – (France), Global views in orthodontics (Budapest-Hungary)
February 2014: Rudolf Slavicek – (Austria), Temporomandibular disorders (Budapest-Hungary)
2013: Guido Sampermans (Netherlands), Class II – Class III cases (Budapest- Hungary)
2010-2011-2015: Leone Congress and Course (Florence- Italy)
2010, 2011, 2013: IVOS Congress and Course (Vienna- Austria)
2011: Incognito Appliance System Certification Course (Budapest-Hungary)
2009: EOS Congress and course (Helsinki-Finland)
2008: The Alexander Discipline, Wick Alexander (USA) (Opatia- Croatia)
Reviews