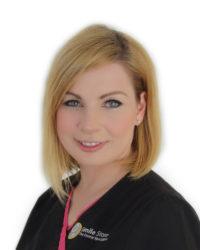 Dr. Orsolya Németh
Dr. Orsolya Németh is a talented General Dentist, and is enjoying meeting all of our patients, as well as getting to know her colleagues in the busy practice at Smile Store – Your Local Dental Specialists.
She graduated from the prestigious University of Szeged in Hungary in 2009, and certified in Restorative and Prosthetic Dentistry from that University in 2012.
"I really enjoy every aspect of general dentistry, and I have a special interest in restorative and prosthetic dentistry. I think feeling confident about your smile is very important, not just for your self-esteem, but as part of your general health. I can help you make, and keep, your smile as radiant and beautiful as it should be!"
A member of both the Hungarian Dental Chamber and the Irish Dentistry Association, Dr. Németh fits in well with our team, as she loves to learn new techniques and is constantly updating her knowledge base by attending courses when her busy schedule allows.
Staying on the cutting edge of innovations in dentistry is part of the ethos here at Smile Store, and Dr. Németh certainly enjoys keeping her finger on the pulse of all the current research and trends in dentistry globally.
She is used to working in a high-volume practice, both in her native Hungary and in Ireland as well; something that is certainly welcome at Smile Store as our client base continues to grow.
She has extensive experience in planning and treating complex cases, and brings a lot to the table in terms of her hands-on clinical abilities.
Qualifications
Doctor of Dental Medicine, Szeged, Hungary
Here are just a few of the courses I've attended recently:
Perspectives in Perio – Implantology and Comprehensive Dentistry 2015
Perspectives in Perio – Implantology and Comprehensive Dentistry 2014
The biomechanical restorative concept for the posterior region GC 2012
The biomechanical restorative concept for the anterior region. GC 2012
Direct veneers -hands on course (Volom) 2011
Parodontically- based shoulder preparation and veneer preparation (Volom) 2011
Up-to-date Dental Implantology -CAMLOG tour 2010
New perspectives in the aesthetic restoration of the anterior region 2010
Special impression procedures, thermo-plastic custom trays (Volom) 2010
GC Gradia Direct hands on course 2010
Reviews