Smart Guide Surgery; CT scan for high-tech diagnostics
We stay on the leading edge of technology to offer patients and referring dentists the best diagnostic tools.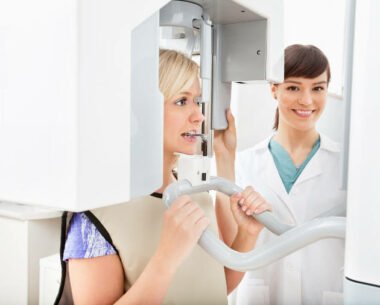 We offer Smart Guide Surgery for digital treatment planning and guided implant placement. Smart Guide allows safe and precise treatment and is an advanced solution for perfect placement and positioning of your implants. 
Advantages of Smart Guide Technology
Modern diagnostics with high-quality 3D imaging

Minimises additional procedures like bone grafting and sinus lift 

Minimises the risks and complications of freehand surgery with precise planning and accuracy

Shorter surgical time in chair

Less pain and inconvenience as digital plan allow minimally invasive work

Optimal outcome for prosthetic restorations and crown positioning
Treatment process with Smart Guide
Consultation with Implant Specialist to discuss details of your treatment

3-D images are taken with our CT scanner

Computerised treatment planning is done with Smart Guide cutting -edge software to plan the perfect position, size and shape of your implants. The technology precisely measures quality and quantity of bone and factors in surrounding anatomical structures.

Implant placement takes place with the surgical guide that has been created for you. The custom-made template allows implants to be fitted exactly into optimal position.

The ideal prosthetic (replacement teeth crowns) can be made to fit at exactly right angle on your implant for a beautiful result
CBCT Scanner on site
Smile Store patients only need to walk down our hall to have a CT scan on site. Our Cone Beam CBCT scanner is engineered to provide a three-dimensional view of all the interior structures in the head and jaw, whilst subjecting the patient to the absolute minimum of radiation.
The CT scanner allows the specialists to see available bone levels; facial nerves and anatomical features in detail. 
It is also useful in cases with hard-to-locate root canals, or for wisdom tooth extraction with nerves in close proximity.
We also offer digital OPG panoramic x-rays as standard for all Smile Store patients.
Referring dentists and medical professionals send patients to our practice to have CTs and OPG x-rays. 
For referring medical professionals please click, on the referral form link