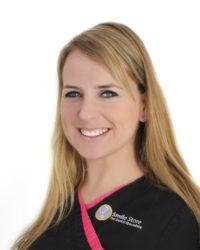 Dr. Anikó Fazekas
General Dentist
"I graduated from the Faculty of Dentistry of the University of Szeged in Hungary. I am really interested in the whole concept of prevention of dental problems, so I did my thesis on it. Education and developing healthy oral hygiene habits are vital and will save people so much trouble and expense! I worked in a private practice in my home town where I gained a lot of experience.
I was delighted to have a lot of young patients and teach them all about good dental care. I'm very actively involved with professional training, and I constantly attend post- grad courses to maintain a high level of quality care and knowledge base. Dentistry is constantly evolving so I love learning about state-of-the art techniques and treatment protocols. I enjoy using the most innovative products in dentistry, and we have superb equipment at Smile Store.
My aim is convince my patients of the importance of prevention as the old saying is so true-that prevention is always easier than the cure! I have a genuine enthusiasm for dentistry. I believe in trying to preserve the natural dentition, or people's own teeth, as much as possible, using minimally invasive techniques-the days of yanking out every tooth with a problem are thankfully long gone. I'm also really interested in orthodontics, which is the study of the gums.
I'm a second generation dentist in my family. My mother is an orthodontic specialist, and she sparked this passion I have for dentistry and the overwhelming curiosity about orthodontics in general. I am a registered member of the Dental Council of Ireland. Outside of the practice I enjoy travelling and sport-whenever I get the time!"
Here are just a few of the courses I've attended recently:
2016 September – Invisalign Training Course, Warsaw
2015 February – Clinical Masters Program in Aesthetic and Restorative Dentistry, Geneva session
2014 November – Clinical Masters Program in Aesthetic and Restorative Dentistry, Athens session
2014 October – Protaper Next
2014 September – The biomechanical restorative concept for the anterior region (GC)
2014 June – Anatomy and functionality of the molars
2014 May – Clinical Masters Program in Aesthetic and Restorative Dentistry, Athens session
2014 January – Ankylos prosthetics hands-on course
2013 October – Alpha Implant advanced prosthetics course
2013 November – Damon method for advanced users
2013 September – The biomechanical restorative concept for the posterior region (GC)
2013 March – New perspectives in the aesthetic restoration of the anterior region
2013 February – Componeer and veneer preparation
2012 November – Bite registration in every day practice
2012 September – Ergonomics in endodontics: preparation and filling of the root canal
2012 June – Perfect crown preparations (Dentsply)
2012 March – Practical foundations of modern endodontics (GC)
2011 December – GC minimally invasive dentistry
2011 November – GC Composites in theory and practice
2011 October – Parodontologically based shoulder preparation and veneer preparation
2010 September – New efficient solution in Orthodontics, Florence, Italy
Reviews